There is a slow shift in the nutritional world regarding health and longevity.
People are beginning to realize that conventional nutrition is not making that much of an impact on the plethora of diseases we are seeing today. The standard nutritional model contains too much dairy, grains, and meat products. A lifestyle eating mostly these three food groups will lead you down a path towards acidity and disease.
So what is this shift that is taking the nutritional world by storm? You are beginning to hear a lot about acid/alkaline balance in the body, in other words, balancing your pH levels. There are numerous pH levels found throughout the body and what is most important is the pH levels of your tissues and blood. The food groups mentioned above turns the blood acidic, damages tissues, and causes inflammation. All three are markers that lead to oxidizing the bodies tissues (organ death), accelerate aging, and slowly building disease in the body. We are eating too many foods that turn the body acidic and not enough of the foods that keep our blood and tissues at the optimal pH level of 7.365
What foods should I be consuming to help bring my body back into pH balance?
You may be asking:
What foods should I be consuming to help bring my body back into pH balance?
Here are a few examples- fruits like lemon, lime, tomatoes, avocados, unsweet grapefruit, and pomegranates then vegetables, especially dark leafy green vegetables. Raw, juiced, or lightly steamed are the best forms to eat these foods. These highly nutrient rich foods contain lots of chlorophyll, minerals, vitamins, and enzymes that neutralize acidity, build the blood and tissues, prevent disease, slow aging, and reduce inflammation in the body. Making your daily eating consist of 70% to 80% of these alkaline foods will do wonders for your body! However, because of our fast paced and stressful lifestyles, when it comes to keeping the body at optimal pH levels, you will have to do more than eat alkaline fruits and veggies.
All this talk about acid/alkaline balance in the nutritional world is very popular today, however, there is not enough talk about "super foods." What are super foods? They are foods that are calorie sparse, nutrient dense, easily digestible, fat burning compounds, and help the body heal itself. The micronutrient levels are much higher than your average fruits or vegetables.
So what does this mean? These foods boost immunity, increase energy, nourish the body at higher levels, detoxify the blood and tissues, decrease inflammation at higher rates, supply the body with higher levels of enzymes, vitamins, minerals, protective phytochemicals, healthy bacteria to build healthier muscles and tissues, aid in digestion, and the list goes on!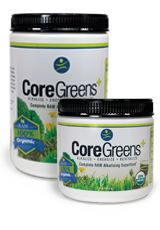 Super foods such as alfalfa leaf, wheatgrass, barely grass, oat grass, spirulina, chlorella, sea kelp, broccoli powder, cabbage powder, parsley powder, kale powder, dandelion leaf, and all sprouts are just some super foods. Most of these foods are expensive and hard to find in grocery stores.
So how can we ensure that we can eat these foods on a daily basis? Core Health Products have made it simple and affordable! Core Greens contains 14 RAW superfoods that are rich in enzymes and nutrients to alkalinize the body while providing cleansing and healing of our delicate internal eco-system. Each certified organic, RAW ingredient has been hand-selected for its alkalizing properties from the richest soils to maximize the highest nutrient content available.
Core Greens was sprouted to ensure that we can alkalize the body with all these super foods and supply our bodies with the best nutrition possible! If you desire to live at optimal pH levels, then taking in these super foods via Core Greens is absolutely imperative!
Let the discussion begin…Post your comments below!