The number 1 killer and the long standing lifestyle related disease in America today is heart disease.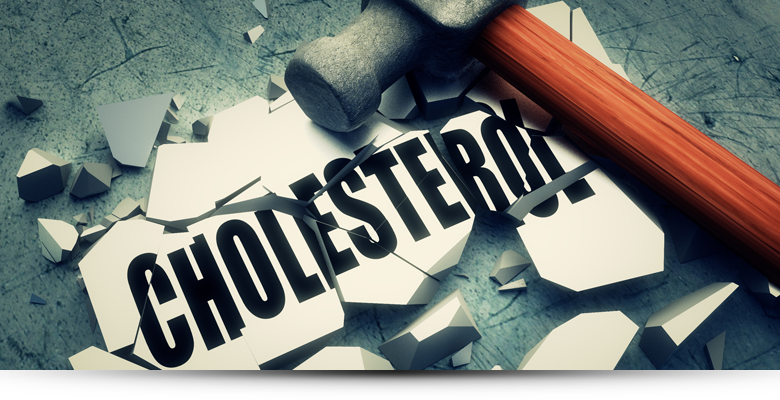 The medical establishments response has and continues to be the utilization of a plethora of advertising drugs and heart surgeries to try and reduce this tragic phenomena, however, heart disease is only getting worse every year. The medical and nutritional world also likes to talk about the dangers of cholesterol and how we need to avoid it at all costs, since that is the problem and cause of heart disease in the first place. What they are NOT telling us is that cholesterol has particular functions in the body and has its place to keep us healthy. We will explore some misconceptions about cholesterol that scare the public based on the medical fields perspective, provide a counter-argument exploring cholesterol's functions, types, and sources that will eliminate cholesterol's bad reputation, and finish the article addressing the root causes of heart disease and ways to slow down, reverse, and/or prevent it.
The current medical dogma concerning heart disease called, "the cholesterol theory" claims that a good HDL (high density lipoprotein) level is around 50 to 75 mg/dl which indicates that the body is getting rid of excess cholesterol and avoids its accumulation in the artery walls. They also claim that a high LDL (low density lipoprotein) level above 120 mg/dl reveals that the body has too much cholesterol from foods and is a sign that the body is not ridding itself of excess cholesterol, therefore, the cholesterol stores itself in the arteries, as a result, this increases your chances of high blood pressure, heart attack, and stroke. If a high LDL level is discovered via a blood test, then the protocol is to either use statin drugs to reduce cholesterol levels or if the arteries show signs of heart disease like atherosclerosis, then open heart surgery is imperative. The former tends to work for about 1% of people on statin drugs and most people who get surgery often times have great success. However, surgery does not change the underlying cause of heart disease, so there must be a change in eating and drinking habits. It is not uncommon for people to have multiple open heart surgeries (bypass surgery) in their lifetime due to a lack of dietary changes to address the real causes.
The food industry piggy backs off the "cholesterol scare," that the medical field has created in our culture, therefore, they produce multiple products that are labeled, "cholesterol free," or "low cholesterol," and they fly off the shelf because consumers believe these products are healthier for you. These products come in the form of shortenings, margarine's, and multiple dairy products. These products have been around for a while and have not helped the heart disease epidemic but only made it worse because these products have de-natured fats in them that lead to heart disease but more about this later. Let's transition to the functions of cholesterol and why it should not scare us.
One of the most important functions of cholesterol is to compensate for any changes that occur in membrane fluidity keeping it within narrow limits, so that it can maintain optimal membrane function. This is so important that every cell is equipped to synthesize its own membrane cholesterol. The more we consume good forms of unsaturated fatty acids, we will maintain fluid membranes; the more we consume unhealthy saturated fatty acids, the harder the membranes become. Cholesterol is there to create the balance between too fluid or too hard of membranes. The body also makes steroid hormones from cholesterol that help to maintain sexual difference and sexual maturation. Cholesterol also helps make adrenal corticosteroid hormones. These hormones help to regulate water balance through the kidneys, increases sodium retention when needed, and helps prepare the body with its innate fight or flight responses due to stress. Our body converts vitamin D from the sun from cholesterol under the skin. Bile acids are derived from cholesterol which enable us to metabolize fats and assists in absorbing fats and fat-soluble vitamins. The functions of cholesterol go on and on, so we have only scratched the surface. You can begin to see why cholesterol is very important when it comes to proper cellular function in the body.
There are multiple types of cholesterol in the body but our main focus will be on HDL (high density lipoprotein), and LDL (low density lipoprotein) cholesterol, since these two are measured in blood analysis and markers for or against heart disease by the medical field.
What are the functions of each?
Typically there are 7 grams (half ounce) of cholesterol present in the bloodstream, along with, triglycerides and phospholipids. There are two groups (fractions) of lipoproteins that have very different roles. One fraction, that is made up of 4 fractions, the most prominent one is called LDL (low density lipoprotein, sometimes called 'bad cholesterol') carries cholesterol and fats (triglycerides) from foods and our liver to our cells. The other fraction, called HDL (high density lipoprotein, aka "good cholesterol) carries cholesterol from our cells back to the liver, where the liver changes this cholesterol into bile then both are excreted out of the body via our stool. As you can see, both types have major roles when it comes to cholesterol transit in the body. They both have healthy functions and are vital for the maintenance of our health at the cellular level.
Cholesterol is produced by the body and it's not necessary that we get it from food sources. Like we saw earlier, our cells contain it and the liver produces it when the body needs it to keep the fluidity of our cellular membranes in proper balance. However, we do get cholesterol from animal sources like dairy and meats. When we consume these food sources, the body does not produce as much because we are getting it from animal sources. The body has a great way of keeping itself in proper balance based on our nutrient intake from the foods we eat, this is just one example. I am not advocating for a nutrition protocol that eliminates all meat and dairy because there are important nutrients we get from those food sources; however, the form, how the animals are raised, and its digestibility plays a vital role in what are healthy or unhealthy dairy and meat products.
Let's focus on the root causes of heart disease.
This section of the article will continue to support why we should not be scared of cholesterol, provide a unified theory of its root causes, why measuring LDL and HDL serum levels are bogus tests that tell us nothing about the causes of heart disease, what we need to be testing for in the body that indicate heart disease, and will finish by a protocol to follow to slow down, reverse, and/or prevent heart disease. Keep in mind, any protocol may need to be adjusted based on our specific metabolic capabilities, thus, the protocol is for general application and should be followed up by your doctor to ensure you are being monitored by medical professionals.
To summarize what my research has been over the last year concerning the root causes of heart disease, we now know that vitamin, mineral, and EFA (essential fatty acids) deficiencies, along with, a lack of antioxidant intake from whole foods, and inflammation (can be linked to chronic acidosis as well) is the real cause of heart disease. Also, the consumption of sugar, trans fats (hydrogenated oils/fats), heated polyunsaturated vegetable oils, shortenings, margarines, fat free dairy products, chronic stress, allergens, and overall toxemia of the blood are causes as well.
What exactly happens when we consume the foods just listed? For starters, when we consume sugar it metabolizes into a harmful form of saturated fat, which leads to the fluid of our membranes to harden, this also causes massive amounts of inflammation and robs the body of nutrients. The list of denatured fats listed above leads to what is called, "oxidized cholesterol." Research shows that when we consume these vitamin, mineral, enzyme, and antioxidant deficient fats it oxidizes our LDL cholesterol which damages our arteries and leads to conditions like atherosclerosis. Again, heart disease begins at the cellular membrane level and the way to keep the proper balance between fluid/hard membranes is to eliminate these foods and increase our antioxidant intake via eating whole foods and taking in good amount of EFA's (essential fatty acids, especially omega 3's).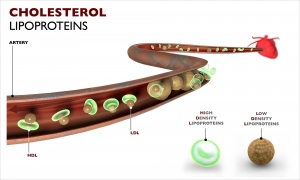 Another process that occurs when we consume these foods is what is called, Lp(a) (lipoprotein a) and its level in blood serum. Lp(a) functions and looks just like LDL cholesterol but carries an adhesive repair protein known as apo(a) and is a strong risk factor in cardiovascular disease. Along with this adhesive repair protein there is a buildup of fibrin/fibrinogen that builds in the arteries over time causing the blood to thicken (French, "rouleau" aka "sticky blood) and leads to atherosclerosis. There is usually a buildup of fat particles, calcium, protein, etc., in this fibrin/fibrinogen causing plaque and scar tissue to build in the artery walls that lead to high blood pressure, and increases your risk of a heart attack and stroke. Keep in mind that this whole process causes inflammation and is part of the repair process our arteries go through to prevent heart disease, so in a way this process is saving your life; but can lead to premature death.
Medical dogma has erroneously linked LDL and Lp(a) together. The problem lies in the fact that LDL has very little to do with the cause of heart disease; it is linked to high amounts of Lp(a) in the serum of the blood. When we do not provide massive amounts of vitamins, minerals, enzymes, and antioxidants to the body, then these repair proteins will continue to build over time leading to heart disease and death. It takes high amounts of whole vitamin C and Omega 3 fatty acids to lower the amount of Lp(a) and fibrin/fibrinogen in the blood, along with, a plethora of other nutrients.
So the medical field has been testing for the wrong things when it comes to diagnosing any increased risk factors for heart disease. What we need to be testing for are the blood serum levels of Lp(a) and also another test called a CRP (C-reactive protein) test. Testing for Lp(a) levels in the blood serum will help us to see how much of the repair protein we have in the arteries and the CRP test will give us a general idea of how much inflammation we have in the body.
You may be asking, now that we have briefly summarized the root causes of heart disease, what are we to do about it? What are the dietary changes that need to take place for me to either slow down, reverse, and/or prevent this lifestyle related epidemic? Keep in mind that genetics only has about a 1% relationship with cardiovascular disease, therefore, your lifestyle must change in order to address heart disease. The 1% that is effected with a genetic predisposition can still benefit from what will be provide next in this article.
Let's begin with the foods, drinks, and other lifestyle habits that need to go!
Avoid smoking and minimize drinking coffee because they both increase cholesterol levels. Decreasing the amount of animal protein and dairy is imperative. Not only will they contribute to excess cholesterol in the body but they are also the hardest to digest causing more acid and inflammation, the real marker of heart disease. This next one will be the hardest for the majority of Americans because it's in every box, package and carton disguised as many different names. Eliminate all processed sugars and the foods that contain them along with carbonated drinks in all forms, fruit juices, etc. Sugar causes inflammation. Whenever you feel pain or stiffness, try and account for how much sugar you have eaten in that day and the previous. You'll begin to notice a pattern- more sugar = more pain. Did you also realize that ALL processed conventional sugar comes from sugar beets which along with soy and corn is the most rampant genetically modified crop? This DNA altered product has the potential to alter your DNA as well! Learn more about the detrimental health effects of GMO's here. Alternatives to processed sugar would be Stevia, raw honey, maple syrup or dates. Consume sweeter things in their whole food forms and not processed, striped or synthetic versions. The body will slowly digest it and not cause the roller coaster of blood sugar imbalances and impaired health.
Limit or completely stay away from refined starches like white flour, white rice, white pasta, white and the many so-called wheat breads, etc. These all immediately turn into sugar and we know where that leads us! For many, gluten from wheat products cause inflammation throughout the body but that doesn't mean you should switch to all the GF counterparts. They are heavily processed, devoid of nutrition and again, break down into sugar. Don't fret yet and think there is no hope. Now is the time to expand your horizons with food, living food that is, and explore all the different ways to make a sandwich without bread or try quinoa. A plant based revolution may break out in your kitchen and your body will thank you by giving more energy, a more focused brain, mobile joints, flatter stomach and restful sleep. Who doesn't want that and a better heart to boot!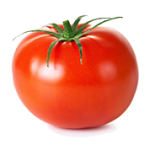 When you start to see that living food truly can be the best medicine then everything else makes sense and it's easy to stay on track. Reducing stress in our life, albeit very difficult to do, can have a profound effect on your overall health. It not only makes the body acidic but it also causes an increase in cortisol levels that could lead to excess weight gain and cardiovascular disease. Lastly, be mindful of any allergens that you may have because allergens cause lots of inflammation to the body and can assist in the development of heart disease. Do you now see why inflammation has been known as the silent killer? It can manifest through many means so listen to your body and take the necessary steps to keep it at bay.
Now it's time for the good news! This last section will provide you with a protocol but it is just for general use and should be altered depending on your specific metabolic needs. These recommendations are not intended to treat heart disease but are a provisional guide to help you get on the right track.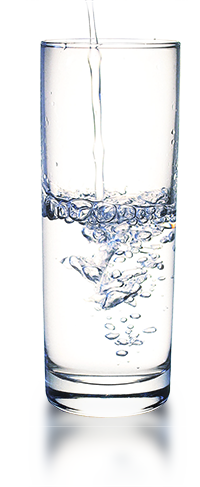 First, drinking medical grade ionized Kangen water will be helpful for numerous reasons. It super-hydrates the body, so it will help reduce the viscosity (stickiness) of the blood and increase its volume for the absorption of nutrients we consume. There are powerful antioxidants in the water that are unlike those we find in plant based foods. The antioxidant value will help reduce oxidative stress and neutralize acidosis in the tissues of the body because of its high mineral content. For many it increases bowel movements, so that can help with getting rid of excess cholesterol and bile found in our stool.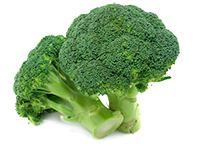 Second, you must increase your intake of raw low sugar fruits and raw or lightly steamed vegetables (especially leafy greens). They all contain high vitamin, mineral, enzyme, and antioxidant value which is needed to reverse or prevent heart disease. This will reduce inflammation, neutralize acidity in the blood, reduce Lp(a) repair protein and reduce fibrin/fibrinogen buildup in the artery walls.
Third, increasing your intake of Omega 3 fatty acids found in flax oil (unrefined, cold pressed, in dark refrigerated containers), Core E.F.A./Krill oil from Core Health Products, raw nuts and seeds, hemp seed oil (unrefined, cold pressed, in dark refrigerated containers), etc. These fatty acids provide the body with antioxidants, vitamins, minerals, and enzymes to reverse or prevent heart disease. They are easily absorbable in the gut and help to digest partially hydrolyzed (digested) fat particles in the blood stream and burn it for energy. They too reduce Lp(a) repair proteins and fibrin/fibrinogen in the body. Remember those bad fats listed previously (trans fats, margarine, shortening, etc.)? Bugs won't touch them so neither should you!
Fourth, greens, greens and more greens! Core Greens, 14 raw organic super foods, will neutralize toxins in the liver and blood stream for better metabolic function and may increase bowel movements as well. These nutrients provide the body with antioxidants to combat oxidative stress and reduce inflammation.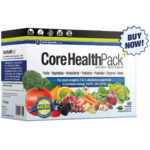 Lastly, supplementing the diet because I know it's extremely difficult to buy, prep and eat all the nutrition our bodies need on a daily basis. Taking the Core Health Pack or Digestive Health during meals will ensure the complete breakdown of carbohydrates, fats, and proteins we consume, especially if we eat a cooked meal and continue eating dairy and meat. Taking the Heart Health in-between meals will increase the metabolism/burning of partially digested fats in the blood to be used as energy. The Joint Health in-between meals can help create more red blood cell separation, reduce the viscosity of the blood, separate allergens from their proteins, reduce inflammation, and digest any potential partially digested protein in the blood stream. It has a supply of proteolytic enzymes in it that allows it to function in more ways than just joint support. Proteolytic enzymes have been used for many inflammatory diseases like heart disease, cancer, arthritis, etc., in other countries intravenously, orally, or rectally with great results.
A note from the author!
I hope this article provides you with enough insight regarding the root causes of heart disease and ways to begin the process of slowing, reversing, or preventing it. So much more could be said but this article gives you a little more of an in-depth look at the number 1 killer in America today. If you follow these five easy steps and build off of them, your body should heal over time. Depending on the severity of the condition it may take longer for some to heal themselves of this condition. Again, if you plan on making these changes, please consult with your physician and let them know you are starting this program. If you are taking any blood thinners, then you must avoid taking any of the enzyme products in-between meals because of their natural blood thinning effects.
As an added bonus exercise, exercise, exercise!! Build lean muscle and increase cardiovascular health. This will help to offset any slips in your new nutrition program along the way. Keep cheating to a minimum because you only cheat yourself in the long run!
To good health and longevity!!
John Nardozzi, Core Health Products Blogger
References
Batmanghelidj, F. You're Not Sick, You're Thirsty!. 1st Ed. New York, Wellness Central. 2003.
Erasmus, Udo. Fats That Heal, Fats That Kill. 2nd Ed. Alive Books, Burnaby BC, Canada. 1993.
Young, Robert O. Sick and Tired. Woodland Publishing, Pleasant Grove, UT. 2001.